Security Guard Certification
Aloha Security, Inc. – Big Island, HI

Need Your Guard Card?
Are you interested in getting your Security Guard Certification? Aloha Security can help! As the premier protective force serving all of Big Island, Hawai'i, we are fully insured, bonded, and licensed by the state to provide public and private safety services to communities islandwide. When you partner with Aloha Security, you benefit from our more than 20 years of experience and skill in the field of protective services. We invite you to contact us to learn more about how you can get your Security Guard Certification and your "Guard Card."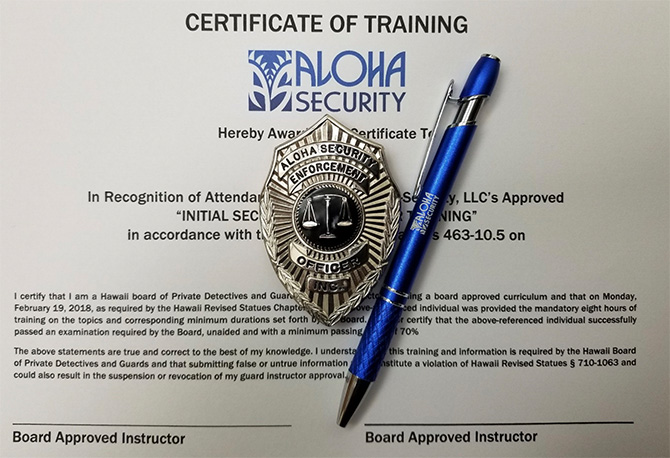 Security Guard Training
Prospective security guards and protection agents are able to pursue training that qualifies them to provide the highest quality standing and mobile patrol services, covert and overt operation security, general security service, traffic control, and investigations, as well as specialized event, retail, and executive protective services. At Aloha Security, our practical approach focuses on security awareness, as well as providing exceptional personal and physical security for individuals and businesses throughout the Big Island. We take our responsibilities seriously and are always looking for dedicated individuals who are interested in helping our clients operate their personal, business, and social engagements safely and without hindrance.
Join Hawaii's Most Respected Protective Service
Aloha Security enjoys our reputation as the region's most respectable and reliable protective service provider. If you are a professional who is committed to safeguarding lives while operating with respect for those we serve, we want to hear from you. At Aloha Security, Quality, Integrity, and Reliability go hand-in-hand. Contact us to learn more about how you can begin your career as a professional security guard.
Aloha Security proudly protects individuals and businesses in communities throughout Big Island, Hawai'i. Contact us at: 808-969-3300.