About Aloha Security, Inc.
Hilo, Hawai'i's Premier 24-Hour Commercial
Security Agency

Aloha Security, Inc. is the premier commercial security agency serving all of Big Island, Hawai'i. We provide custom-tailored security services for clients island wide. We deliver quality security execution backed by outstanding customer support.
Our locally owned and operated agency is Hawai'i licensed, bonded, fully insured, and rated A+ by the Better Business Bureau. All employees undergo comprehensive pre-employment screening and training prior to going into the field in the name of Aloha Security. We are pleased to offer 24-hour security coverage, seven days a week.
Aloha Security is focused solely on protecting the safety and confidentiality of our clients.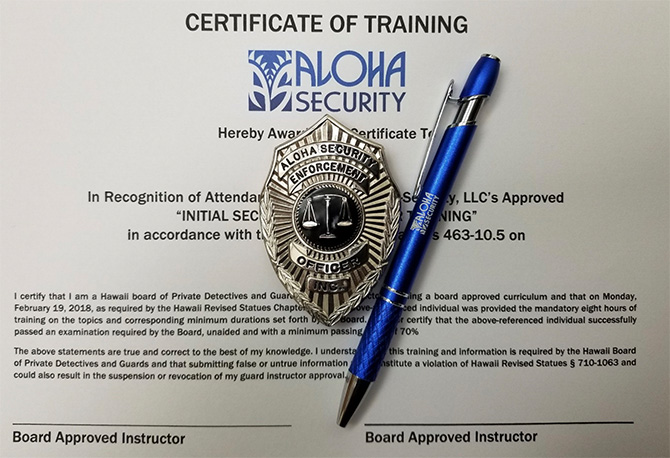 Specialized Security Services Islandwide
At Aloha Security, Inc., our team specializes in providing innovative security solutions that meet and exceed our clients' expectations. We accomplish this by providing exceptional security consulting and precision execution, backed with extensive training, investigative support, active management and 24/7 customer support.
Aloha Security offers one-on-one protection, building and executive security, traffic control, and guard services for everything from small, sensitive private meetings to the largest political rallies and entertainment venues on the Island. We work with you to design, execute, and maintain the most effective security solution.
24/7 Professional Service
Fast Response
Dependable Security
Experienced Guards
Highest Level of Security Available

Our Values and Philosophy
At Aloha Security, we value integrity, reliability, and professionalism. Our security experts focus on mastering preventive techniques to help avert incidents and crisis situations before they happen. Our skilled personnel are trained to rapidly identify, dispatch, and eliminate threats to protect the interests of our clients at all times.
Communication is at the heart of everything we do. From listening and responding to client needs to surveilling situations to assess potential threats and promoting observation, listening, and interpersonal relationships among our team and those we protect, our focus on communication is one of Aloha Security's most valuable assets.
What Can We Do for You?
Aloha Security operates with our clients' interests in mind at all times. We are confident you will find our security services to be of the highest standards. If you would like to learn more about how we can help ensure the success of your business, event, or commercial project, please contact us at: 808-969-3300.
Employment Opportunities
If you are interested in joining our team of security experts, we invite you to view available employment opportunities. Assistance obtaining your Security Guard Certification is available, as well.
Reach out to us and let us know what we can do for you. Contact Aloha Security at: 808-969-3300.