Community Partners and Links
Aloha Security, Inc. – Big Island, Hawai'i

Aloha Security, Inc. works with numerous professional organizations, government entities, and community agencies to deliver the most effective security solutions for our clients. Together, we work to make Big Island a safer and more enjoyable place to live and do business. We encourage you to visit our partners' and affiliates' websites and familiarize yourself with the services they provide.
Law Enforcement Affiliations
Throughout years of teamwork and shared protective assignments, Aloha Security, Inc. has developed close partnerships with several law enforcement and government agencies. Together, our duty is to protect life and property to the best of our ability in the communities we serve. Visit the following websites to stay up-to-date on potential threats facing the Island and other issues of interest to public safety.
Official Government Protective Agencies
Hawaii Police
Department

Hawaii Department
of Public Safety

Hawaii County Civil
Defense Agency

Hawaii Emergency
Management Agency

Hawaii Department of
Commerce and Consumer Affairs
Emergency Alerts & Preparedness
At Aloha Security, we anticipate, plan, and prepare for all contingencies that could place the individuals and property we protect in a threatening situation. Our agents react quickly and decisively to contain threats and remove our protected parties from danger. We do everything possible to prevent situations from escalating, and take action as necessary, so you can rely on us to provide the best security possible.
We are always ready to protect you – and you can also take action to help protect what matters most. Prepare for threats to yourself, your home, and your business by staying informed, alert, and prepared. From being aware of weather conditions and any impending environmental threats each day to taking concrete steps to prepare for the worst, you can provide those you care about with the best chance of staying safe no matter what the day holds.
Weather Awareness
| | | |
| --- | --- | --- |
| | | |
| Big Island, Hawaii Tide Tracker | Hurricane & Storm Tracker | National Weather Service – Hawaii |
Survival Skills, Training & Resources
| | | | | |
| --- | --- | --- | --- | --- |
| | | | | |
| More Than Just Surviving (Survival Blog) | Prepping 101 | Survival Blog | Stueb's Guns & Ammo | Roma Jiu Jitsu Academy |
Community Resources
The following community resources offer a variety of services and information of interest to individuals and businesses throughout the communities we serve. From preparing for contingencies to staying safe in your daily life, these upstanding businesses and organizations are ready to serve you.
| | | |
| --- | --- | --- |
| | | |
| American Cancer Society | Queen's North Hawaii Community Hospital | Hilo Medical Center |
Professional Traffic Safety Affiliations
The traffic safety partner businesses and affiliates of Aloha Security share in our mission to foster safety and security for those we serve. Our affiliation with these organizations enables us to keep abreast of industry best practices and provide optimal services for our clients.

American Traffic Safety Services Association (ATSSA)
The American Traffic Safety Services Association (ATSSA), represents the roadway safety infrastructure industry with effective legislative advocacy, traffic control safety training, and a far-reaching member partnership. ATSSA helps shift the focus of transportation towards saving lives and reducing injuries.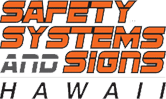 Safety Systems and Signs – Hawaii
Safety Systems and Signs – Hawaii is a retailer of professional-grade traffic control devices and equipment. Aloha Security is proud to use quality equipment from this upstanding company that puts quality and safety first.
Events & General Interest
Aloha Security proudly features select upcoming events and businesses of special interest to our local communities. If you're looking for a quality product or something fun and exciting to do, check in to see what's going on in the area. We also post traffic delays, special alerts, and other notifications online to help keep you informed. For the most up-to-date information, be sure to follow Aloha Security on Facebook.
| | |
| --- | --- |
| | |
| KWXX Ho'olaule'a | Na Makua – Original Hawaiian Designs |